EcoFlow RIVER Max + Panneau solaire EcoFlow 160 W
Usual price
Selling price
€1.048,00
Unit price
for
Sale
Exhausted
Share
Unique modular design lets you adjust the power and portability of the EcoFlow powerhouse RIVER Max in a few seconds.
the 160W EcoFlow solar panel is portable, foldable and compact, weighing only 7 kg. Whether camping or during your outdoor activities, unfold the solar panel and start capturing solar energy in seconds.
Descriptions
Q: How many solar panels can I use simultaneously with DELTA Max?
A: It depends on the total voltage and watts of your solar panels. The main thing is that the solar panels use an MC4 connector and their voltage and current are below 11 to 100 V, 10 A max.
Q: What is the maximum input power of DELTA Max?
A: When charging the DELTA Max station and its additional battery, you can reach a maximum charging speed of 3600W by combining AC, solar and Smart Generator methods. You can charge a single DELTA Max unit from a standard wall outlet (1800W max.), or combine AC and solar to achieve charging speeds of 2000W.
Q: How does the Emergency Power Supply (EPS) work? To How fast ?
A: When your portable power station is plugged into the wall, all electronic components connected to it are powered by the mains and not by the station's battery. When the network is interrupted (following a blackout, for example), the power station automatically switches to battery power after 30 ms.
Q: What is the waterproof class of this product?
A: The DELTA Max Station is not waterproof and should be stored away from liquids. If you are looking for a waterproof solution, you can buy the waterproof protective case for DELTA Max.
Q: How can I get the most solar power?
A: Increase the efficiency of your solar panel by placing it directly facing the sun without any obstructions. Remember to be careful when handling your solar panel, as damaged cells provide less power.
Q: Does the panel charge when indoors?
A: Yes, if the only thing between the panel and the sun is transparent, but it doesn't charge as well as outdoors. You can compare the difference by looking at the input section of your station's LCD display.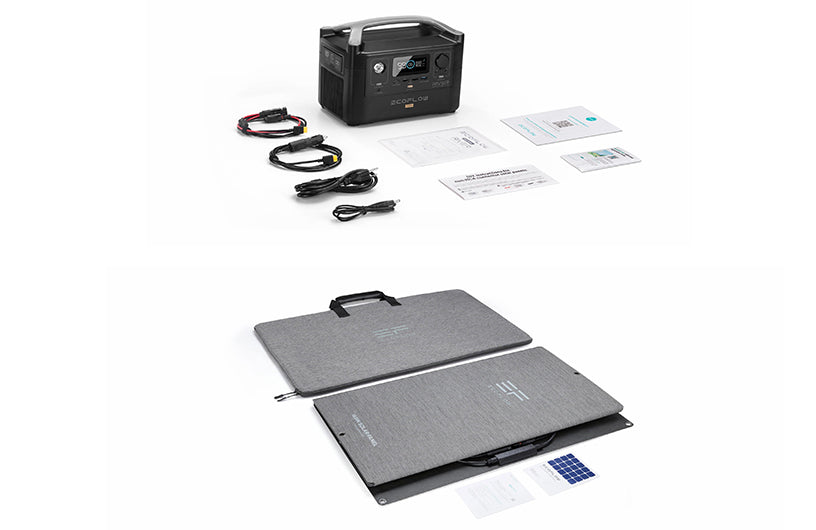 What's in the bundle (RIVER Max)
1. EcoFlow RIVER Max Portable Power Station 2. DC5521-DC5525 Cable 3. 1.5m MC4 to XT60 Solar Charging Cable 4.1.5m AC Charging Cable 5. 1.5m Car Charging Cable 6. User Manual 7. Warranty Card
What's in the bundle (160W Solar Panel)
1.160W Solar Panel 2.160W Solar Panel Bag 3.160W Solar Panel User Manual