EcoFlow RIVER + Panneau solaire EcoFlow 110 W
Usual price
Selling price
€738,00
Unit price
for
Sale
Exhausted
Share
Go on an adventure with the resort RIVER and keep all your devices powered up at the same time. With a 288Wh capacity that fully charges in a record-breaking 96 minutes, you'll go on an adventure with peace of mind.
Skip the network with the 110W EcoFlow Solar Panel. Composed of efficient monocrystalline silicon cells, it can recharge portable power stations and your electrical devices, but also keep your equipment running without interruption when connected to one of our portable power stations.
Descriptions
Q: What is the difference between RIVER, RIVER Max and RIVER Pro stations?
A: Each of the RIVER series has advantages. The RIVER series is ideal for light and portable power, which you can extend with the additional battery. By default, the RIVER Max series includes an additional battery that you can remove for more lightness. The RIVER Pro series is designed for those who need more capability to venture off-grid on long trips.
Q: Can the RIVER station support high power devices?
Yes indeed. The RIVER station can power devices up to 1200W with our exclusive X-Boost technology. *X-Boost can power devices up to 1200W, but it is best to test before use. Some 600W to 1800W devices with strict voltage requirements may not work (eg air compressors).
Q: Can I control the RIVER station remotely?
Yes indeed. You can control the RIVER using your phone. Simply connect to the EcoFlow app to control your device remotely. Here's how to do it: Step 1: Check that the EcoFlow app is connected to the RIVER. Step 2: Check that the RIVER station is powered on. Step 3: Make sure your device's Wi-Fi is turned on. Step 4: Find your device in the app. You can then start controlling your RIVER remotely.
Q: Can I use solar panels with the RIVER station?
Yes indeed. You can connect up to two sets of 110W solar panels to sustainably charge your RIVER station in three to six hours.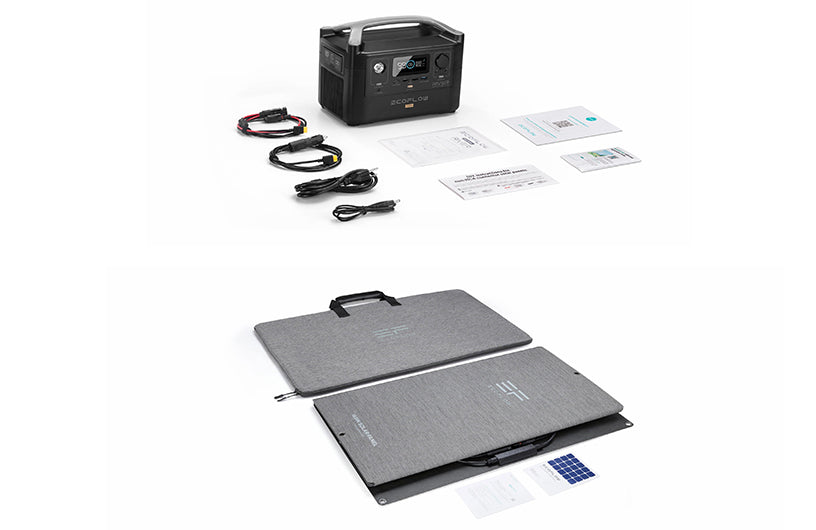 What's in the bundle (RIVER)
1. EcoFlow RIVER Portable Power Station 2. DC5521-DC5525 Cable 3. 1.5m MC4 to XT60 Solar Charging Cable 4. 1.5m AC Charging Cable 5. 1.5m Car Charging Cable 6. User Manual 7. Warranty Card
What's in the bundle (160W Solar Panel)
1.110W Solar Panel 2.160W Solar Panel Bag 3.110W Solar Panel User Manual